The 2021 Subaru Love Promise Customer and Community Commitment Award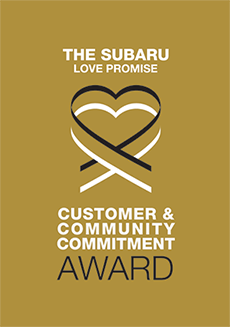 We've been nationally recognized for our dedication to our customers, our community, and the Subaru Love Promise.
We're honored to receive the 2021 Subaru Love Promise Customer and Community Commitment Award. This award nationally recognizes elite Subaru retailers who provide an exceptional customer experience at every interaction with Subaru. These retailers have also demonstrated an outstanding commitment to supporting passions and causes in their local communities in important areas such as the environment, community, health, education, and pets.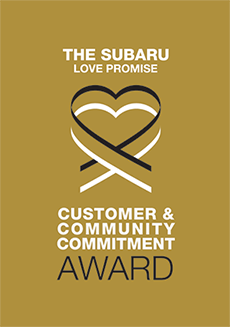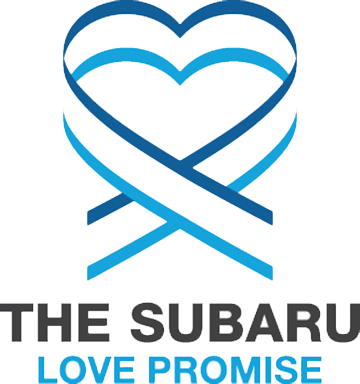 What is the Subaru Love Promise?
Subaru and our retailers believe in making the world a better place and the Subaru Love Promise is our vision of respecting all people. This is our commitment to show love and respect to our customers and to work to make a positive impact in the world.
How is Ruge's Subaru dedicated locally to the Love Promise?
At Ruge's we've had the great fortune to be here in the Hudson Valley for over 80 years. An important part of our business is a commitment to support the local charities that make it a better place for all of us.We thank you for your support and giving us the opportunity to give back.
Rhinebeck Animal Hospital, Ulster SPCA
Rhinebeck Community Garden, Ferncliff Forest
Anderson Center for Autism, Chancellor Livingstone School
Meals on Wheels of Greater Hyde Park, Big Gay Hudson Valley
Northern Dutchess Hospital, Relay for the Cure
Love Promise Stories from Ruge's Subaru
Subaru and Ruge's Subaru believe in making a positive impact on the communities in which we live and work. We uphold that belief through our Love Promise Community Commitment. Every month, we select inspiring stories from customers and partners from around our area who strive to support our collective commitment and feature them here
Ruge's Subaru makes sure no student goes hungry! - Joseph P
At Ruge's we operate on commitment to "paying it forward" to our local community. One of our most fulfilling efforts has been that of defraying the costs of school meals to families who are financially challenged in both Millbrook and Rhinebeck Central School Districts. We recently delivered checks to the districts to help pay off overdue meal balances for those students that qualify for the Free and Reduced School Meals Program, and it warmed our hearts to see the response. If you aren't familiar with it, this program is available to students living in households receiving benefits from SNAP, the Food Distribution Program or TANF, and those whose household's gross income meets Federal Income Eligibility Guidelines. We decided to get involved in this initiative because here at Ruge's, we believe that every child deserves the kind of nourishment that is essential to making the most of a school day. Being healthy and well-nourished is necessary if students are going to learn, grow, and achieve their potential. We want to offset food insecurity - which exists in every community - by addressing it on a local level for the communities we serve. Ruge's Automotive President Kristin Ruge Hutchins shared, "Especially in times like these, it's important that our community come together to support those in need. This is one way of doing our part to help local students understand that we're all in it together. Joseph Phelan, recently retired superintendent, Rhinebeck Central School District, said "In today's heightened climate of food insecurity, we are deeply appreciative, on behalf of our families, of Ruge's generosity again this year to cover the outstanding charges for our "free and reduced price" eligible students. It also has been our school district's privilege to provide free daily school breakfasts and lunches to all children through age 18 who live in our school district, regardless of where they attend school, since March 16th. Starting with 45 total meals during the first week of the covid-19 school closure, we are now providing 450 breakfasts and 450 lunches each school day. The need in our community to combat food insecurity is palpable. Thanks to Ruge's for supporting our most financially vulnerable families." And OUR thanks to our local School Teachers, Staff, and Administrators as well, for all that you do to support our youth!
---
Ruge's Subaru Virtual Pride Month 2020 - Jeff R
With the pandemic closing down 2020 Pride celebrations Ruge's Subaru partnered with our friends at Big Gay Hudson Valley and the Hudson Valley LGBTQ Center to help connect everyone at a time we couldn't physically be together. With the help of Subaru of America and their partnership with Logo, we were able to ship camera equipment to the homes of LGBTQ families all over the Valley and have them film their own personal message of Love and Pride. The plan was to make a 60-second vignette for Logo but the footage was so moving it was extended into a 90-second short. We were able to feature many of our customers and their Subarus and at the same time include the whole spectrum of the community by age, ethnicity, and gender identity. Not everyone was able to see the finished piece on Logo, so they kindly allowed it to be posted on Facebook where it went viral with thousands of views, comments, and shares. As I got to say in the ad "Everything Subaru does is about love" and it was the perfect message at the perfect time.
---
Ruge's Subaru Loves to Care During Covid - Sarah C
For the sixth year in a row, Ruge's Subaru selected Northern Dutchess Hospital as its hometown charity recipient, donating nearly $29,000 through Subaru's annual Share the Love campaign. The funds will be used by the Rhinebeck hospital to offset the cost of treating COVID-19 patients, including isolation room conversions, antiviral medications, and vital personal protective equipment. "The generosity of the Ruge family and Subaru could not have come at a more needed time, as we ceaselessly work and invest to ensure the healthcare needs of our local community are met during this pandemic," hospital President Denise George said. During December's Share the Love campaign, anyone who purchases or leases a new Subaru can designate $250 to be given to a national charity or the dealer's local charity of choice. In total, about $139,000 was donated by Ruge's Automotive to Northern Dutchess Hospital through this campaign over the last six years. Dealership founder Lewis Ruge has been a member of the hospital's board of directors for 45 years and the hospital's foundation board for 36 years. His daughter and Ruge's CEO, Kristin Hutchins, is also on the foundation board.
---
Ruge's supports Families for Astor - Sonia B
Ruge's Subaru is proud to announce that fundraising for Families for Astor which took place during Rhinebeck's Porchfest event has resulted in total proceeds of over $4,000. The funds were secured through three different channels that day – a donation of $250 per vehicle sold by Ruge's Subaru, a lemonade stand, and an auction coordinated by Ruge's and Families for Astor. Proceeds will support renovation projects at the Astor Home for Children. Joe Monaco, Director of Sales and Marketing at Ruge's Subaru, said, "Porchfest is an incredible event that really brings people together for the common good. Once we decided to sponsor it and to host a performance at our property, we felt compelled to use our participation as an opportunity to also do something positive for the children who live at Astor. We got in touch with the team there, and everyone quickly got to work."Added Kristin Ruge Hutchins, President of Ruge's Automotive, "Our team at Ruge's raised $2,000 from sales of vehicles that day, and then the auction, which was a collaborative effort between Ruge's and Families for Astor, secured another $1,000. It's heartwarming to be part of something that helps the kids at the Astor Home; we're thrilled to have created this partnership."Said Kate Kortbus, Families for Astor Committee and Chair of the Board, Children's Foundation of Astor "Families for Astor's participation in Porchfest is a clear example of our mission: kids helping kids. Through our partnership with Ruge's, we were able to set up a lemonade stand and offer baked goods. The community was drawn to the children's audible advertising to 'come and support a local cause for kids'. Many patrons pressed the kids to explain what Astor is and with such clarity, the kids of FFA talked about the mental health issues that Astor kids struggle with. Together they raised over $1000 and felt the power of philanthropy and community that day."Ruge's also hosted a Sensory Safe Space during Porchfest this year, as part of Anderson Center for Autism and the Village of Rhinebeck's work to make the Village an Autism Supportive Community. "There are so many ways a community can work together to enhance life for other people," said Joe Monaco. "It's rewarding to see what you can do in just one day. We're reminded of how lucky we are to work and live in a place where people are always coming together to support those in need."For more information about Porchfest, visit rbkporchfest.com. To learn more about Ruge's Subaru, visit rugessubaru.com, or Families for Astor, visit astorservices.org.
---
Ruge's Subaru; A model for dealership excellence! - Bob C
I can honestly say that Ruge's Subaru is a dealership that is truly welcoming and supportive of the customer's interests and needs. Our sales representative, Mr. Jordon, was patient, very knowledgeable and always available to assist my wife and I as we explored options/packages and other details. At no time did my wife and I feel pressured and at the same time always felt supported when we had questions, observations etc.. Prices were fair, the dealership floor room was beautifully detailed, clean and comfortable and the staff always welcoming during our multiple visits. Mr. Jordon was a pleasure to work with! When my wife and I settled on a package option for our Forrester, Mr. Jordon was there to support our decision never resorting to gimmicky sales tactic, 'add on" etc..I believe Ruge's Subaru is a place were quality, experience and commitment to acknowledging customers interests beautifully comes together with the highest quality reliable cars. Ruge's should be the benchmark for other dealers to follow..Bob C. MSEd.
---
Ruge's Subaru supports "Nourish Your Neighbor" - Victoria K
Ruge's Subaru is supporting the "Nourish Your Neighbor Backpack Food Drive" at Ralph R. Smith Elementary School in Hyde Park, NY as part of the Subaru Loves to Learn program. The program is coordinated through the Eat Smart New York program and the Food Bank of the Hudson Valley. "Nourish Your Neighbor" aims to build a community where healthy food options are available to all. Subaru backpacks are filled with healthy foods and made available to students who might otherwise not have access to healthy foods over weekends and holidays. It costs $183 to provide a student with a full year of Backpack program access, and Ruge's is sponsoring several students for the 2018/19 school year.
---
Sharing the Love with Our Community - Patrick D
Ruge's Subaru has been a long time supporter of Big Gay Hudson Valley and their local events. We've partnered on events from Pink-keepsie to the Annual Family Picnic at Locust Manor during Pride Week, and the annual "Out on the Farm" harvest event at Sprout Creek Farm. "The LGBTQ community are long time and loyal customers for Ruge's and we enjoy paying it back by supporting events for the Community in the Hudson Valley. Plus they throw the best parties!" said Ruge's Patrick Downes.
---
Bringing Science to Schools - Patrick D
Ruge's Subaru presented Chancellor Livingstone Elementary School's Principal and students with boxes of award-winning books to help them with STEM education projects. The books were selected by Subaru's partner; The American Association for the Advancement of Science. Ruge's is proud to provide access to these entertaining and informative books that make learning scientific ideas fun. Ruge's Subaru owner Kristin Hutchins said: "We're really happy to be able to partner with both Subaru of America and CLS on this project and support the excellent work they do in teaching our kids".
---
Ruge's Subaru Loves Pets! - Patrick D
Ruge's has been selling Subarus in the small town of Rhinebeck, NY since 1970. Next door has always been the Rhinebeck Animal Hospital... Over the last 46 years, Lewis Ruge and Dr. Lou Tumolo have been great friends and built their small town family businesses side by side. Their success is based upon the shared ideas of customer service and building trust. Through the Subaru Loves Pets program Ruge's is highlighting the Rhinebeck Animal Hospital and our support for the Helping Hands Fund. On the first day alone (yesterday) over 1,700 people saw the video on Facebook, and dozens shared and commented how alike the two businesses are and how they both care for animals. Most of the RAH staff drive Subarus, and we hope you get a feeling for our mutual support here. Thanks!
---
Sharing Love for Our Seniors! - Teresa W
We are really excited to partner with Ruge's Subaru in our mission to assist our seniors stay in their homes and receive hot, nutritious meals (often delivered via the Subaru vehicles of our volunteer team members!). Partnership with Ruge's has exceeded all of our expectations. Mr. Lewis Ruge, took time not only to visit our kitchen and meet with the staff, but also to join us for meal deliveries! Ruge's has promoted our organization via the digital/social media realm, arranged press coverage and created a professional video which is now posted on YouTube. We look forward to continuing our partnership and are confident that the support Ruge's has so generously given us will help us reach more individuals in need of our services, thereby growing our client base and improving our sustainability and affordability to best serve our community in 2015 and beyond.
---